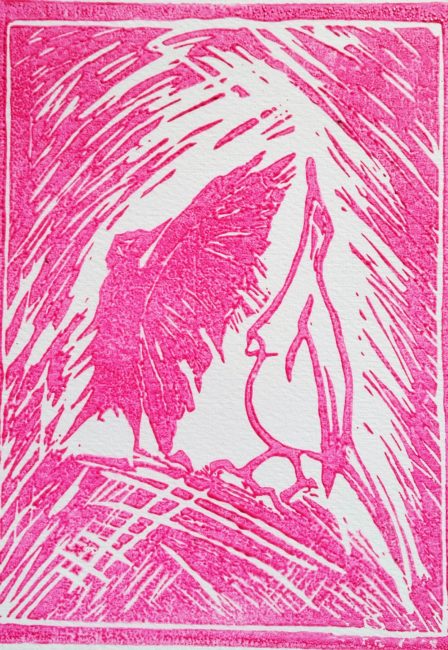 Mating Ritual
2018
Linoprint
32 x 37 cm. Framed
Edition of 100
€230 Framed
About the Artist
Celine graduated from an MA in Visual Art Practices (MAVIS) from IADT, Dublin in 2009. She has a Degree in Fine Art, Painting from Limerick School of Art & Design. She currently lives and works in Mullingar.
Recent exhibitions include Cairde Visual Model, Sligo 2018; Winter Open Rua Red 2017; Nasty Women, Pallas Projects, Dublin 2017; Nasty Women New York, 2017; The Reading Room, Berlin, June 2010, Labyrinth – Writings & Observations, 2009 Tumba, Sweden, Drawing Eire, 2009 Shanghai, China; Matt Roberts Arts; VineSpace, Vyner St, Bethnal Green, London.
She is an artist advisor for the Luan Art Gallery in Athlone, Co. Westmeath. Her artwork forms part of OPW art collection and several private collections. Her self-published artists books Build Me A Studio, EveryonE and Dream Diary are included in several collections including the permanent collection of NIVAL (National Irish Visual Arts Library). She is currently working on her fourth artist's book If We Were Pheasants with Read That Image, Dublin.